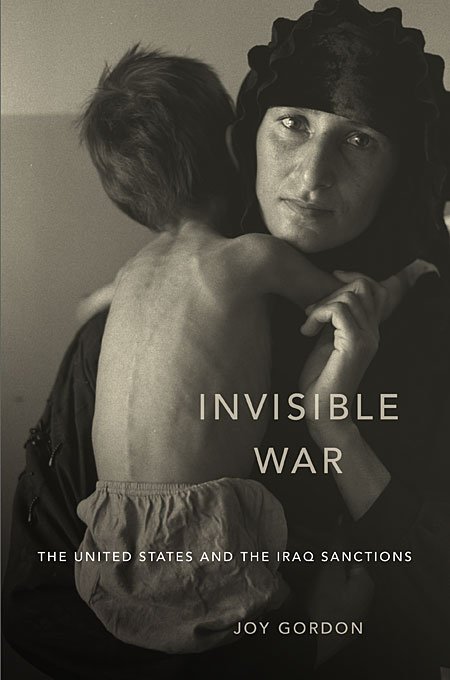 "It is time Americans knew of the cruelty inflicted on Iraqis in our name behind closed doors at the UN in one of the morally most disastrous foreign policy decisions in American history. Gordon has documented it, calmly, courageously, meticulously, and convincingly."
—Henry Shue, University of Oxford, author of Basic Rights
The economic sanctions imposed on Iraq from 1990 to 2003 were the most comprehensive and devastating of any established in the name of international governance. The sanctions, coupled with the bombing campaign of 1991, brought about the near collapse of Iraq's infrastructure and profoundly compromised basic conditions necessary to sustain life.
In a sharp indictment of U.S. policy, Joy Gordon examines the key role the nation played in shaping the sanctions, whose harsh strictures resulted in part from U.S. definitions of "dual use" and "weapons of mass destruction," and claims that everything from water pipes to laundry detergent to child vaccines could produce weapons.
Drawing on internal UN documents, confidential minutes of closed meetings, and interviews with foreign diplomats and U.S. officials, Gordon details how the United States not only prevented critical humanitarian goods from entering Iraq but also undermined attempts at reform; unilaterally overrode the UN weapons inspectors; and manipulated votes in the Security Council.
In every political, legal, and bureaucratic domain, the deliberate policies of the United States ensured the continuation of Iraq's catastrophic condition. Provocative and sure to stir debate, this book lays bare the damage that can be done by unchecked power in our institutions of international governance.
Available in hard cover and paperback from Harvard University Press.  Available in Arabic translation from Centre for Arab Unity Studies, Beirut.